BIRDS OF PREY and OTHER BIRDS at BEEBE POND
Read about Bald Eagles. See a comparison of the Bald Eagle and an Osprey in the dead tree across from Brundages on Route 30.
On June 11, 2011 our Bald Eagle brought a Bass to Mary on her birthday and stayed 30 minutes.
Mary's Bald Eagle at Beebe. ..
Bald Eagle...
Videos: www.bing.com/videos/searchq=videos+of+vt+eagles&view=detail&mid=E9248847B59686B06023E9248847B59686B06023&FORM=VIRE9 and www.facebook.com/theamazingwildnature/videos/780111475450058/
Osprey...
The Osprey has a white tummy and is a terrific fisherman.
See: http://www.youtube.com/embed/nA3LtXnNIto?feature=player_embedded..
Wendy Buser saw this Bald Eagle eating a fish at Beebe Pond on May 4, 2014.
See the 8.21.12 picture of the eagles on Lake Bomoseen.
The Bald Eagle has a white head and is no slouch at fishing. See: http://www.youtube.com/watch?feature=fvwrel&v=MeNjY36o_m8&NR=1
Also, see http://www.arkive.org/bald-eagle/haliaeetus-leucocephalus/video-08b.htm
See stealing fish from Osprey: http://www.arkive.org/bald-eagle/haliaeetus-leucocephalus/video-11.html
View a magnificent Barred Owl at the Pareti's.
A mother grouse was shepherding her young along Route 30 in June 2010.
In mid July 2010 we saw a flock of Turkeys on Delancey Road.
See a hawk parasailing http://www.youtube.com/v/pd5BMP_41bI%26rel%3d0%26hl%3den_US%26feature% 3dplayer_embedded%26version%3d


Black Capped Chickadee...
Goldfinch...
Rosy Breasted Grosbeak http://www.youtube.com/watch?v=NixrHvecZ8c ..
Hairy and Downy Woodpeckers
Downy and Hairy woodpeckers are widely distributed across North America.
Both commonly visit feeder areas where they feed on suet and sometimes seeds. seeds.
These are the only woodpeckers with a vertical white stripe on the back.
Hairy Woodpeckers are roughly three inches taller and their bills are about as long as their heads are wide.
The bills of the Downy are only about one-third the width of their heads.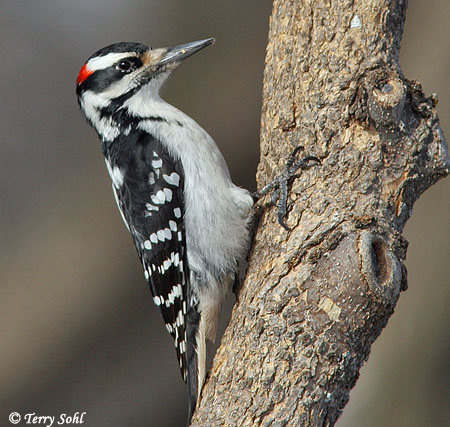 Hairy Woodpecker (above) Downy Woodpecker (above)
Red Bellied Woodpecker
About the size of the Hairy Woodpecker, the Red-bellied has a zebra back, white breast,
and red cap on its head. More precisely, the male has bright red which extends across the
forehead, top and back of head and down the back of the neck. The red on the female is
confined to the back of the neck. The red on the belly is seldom seen.
Red Winged Blackbird

Loon

Male Merganser

Female

Merganser
HUMMINGBIRDS
https://www.bing.com/videos/search?q=hummingbird+at+stowe+on+utube&view=detail&mid=E471D730A3012C22D09EE471D730A3012C22D09E&FORM=VIRE
Actias luna, commonly known as the Luna Moth, is a lime-green moth.
It has a wingspan of up to 4.5 inches making it one of the largest moths in North America.
They can live up to 7 days and usually produce only one generation per year.
Female Luna Moths lay 100 - 300 eggs, 4 - 7 eggs at a time, on the underside of leaves.
They incubate for eight to thirteen days.
BLACK BEAR and a FOX at BEEBE POND
In late April 2010 a Black Bear and her three cubs damaged bird feeders at Alex Pritchard's. She damaged our bird feeders on 4/29 & 4/30 and those at John Marold's on 5/02. See Vermont Black Bears: www.vtfishandwildlife.com/library/Factsheets/Hunting_and_trapping/Big_Game/black_bear_fact_sheet.pdf
This Fox was at the Eldens in August 2009.
In June of 2010 a fox and her kits were seen at the Mason's. In May 2014 a fox and her kits were under the horse stalls at the Masons.
SNAKES
We have common water snakes and garter snakes at Beebe Pond
It was fascinating to watch a snake eating a frog at Beebe:

0n 7.31.2013 we found a descendant of our old garter snakes , Hector and Crictor. See him sunning himself on a green surf board at Beebe.
FROGS
Here is a frog at Beebe Pond and a Leopard Frog on "Tim's Trail in West Haven, Vermont:
YELLOW SPOTTED SALAMANDER
BIG TREES
American Forests, founded in 1875, is the oldest national nonprofit conservation organization in the United States. States.
American Forests publishes American Forests magazine quarterly and promotes the National Register of Big Trees every other year.
On a national basis there is the "biggest" maple, "biggest" pine, etc. And the same is true in each state. state.
There are also national and state lists of the "biggest" trees of all types lumped together.
Big Tree "POINTS" are used to determine the "bigness" of a tree.
Big Tree "Points" = Height in feet + ¼ of the Crown in feet + Girth or Circumference in inches.
| | | | |
| --- | --- | --- | --- |
| Top Big Trees in US | Height | 1/4 of Crown | Girth |
| 01 Giant Sequoia in CA | 275 | 27 | 998 |
| 10 Monterey Cypress in CA | 102 | 29 | 537 |
| 13 Fremont Cottonwood in AZ | 92 | 27 | 504 |
| 25 Valley Oak in CA | 163 | 25 | 348 |
| Cottonwood in Hubbardton, VT | 121 | 22 | 296 |
The "biggest" tree in Vermont in 2003 was a cottonwood in Hubbardton.
As you can see from the few statistics above, a major factor in determining "points" is the girth.
The Hubbardton cottonwood has a circumference of 296 inches, so the diameter is about 94 inches (almost 8 feet).
This tree is located on private property on Hinkley Road.
Cottonwood tree were well-adapted to life on the prairie, Irecognized by the shiny leaves that shimmer and shake in the wind.
The pioneers were always glad to spot one of these trees in the distance, since it offered the possibility of wood and shade.
It also represented the chance of finding water, since this species likes to keep its feet wet, so to speak.
Cottonwoods can be either male or female. The fluffy white seeds produced by the females during early summer give the tree its name.
The seeds are very small, 1mm wide by 4 mm long, producing one of the largest trees in North America. (100 ft. high, trunks 5 ft. in diameter.)
Eastern cottonwood (Populus deltoides) is short-lived but the fastest-growing commercial forest species in North America.
Cottonwoods grow best on moist well-drained sands or silts near streams, often in pure stands.
The lightweight, rather soft wood is used primarily for core stock in manufacturing furniture and for pulpwood.
Eastern cottonwood is one of the few hardwood species that is planted and grown specifically for these purposes. purposes.
Range: eastern North America. Height: 75 to 100 ft. Type: deciduous tree. Leaves: 3 to 6 inches long.